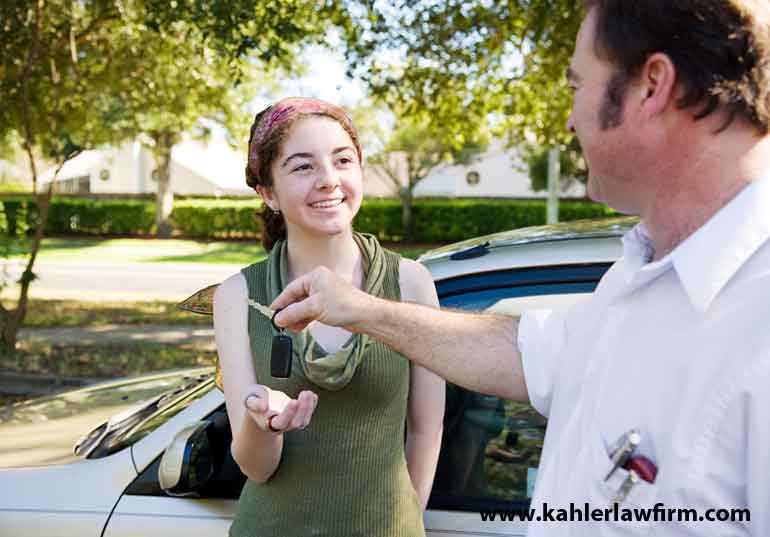 Driving the family car for the first time is an exciting day, most kids look forward to for years. Parents feel pleasure in their child's new independence while perhaps looking forward to the times that this new driver can take a turn picking up groceries or younger siblings from school. Yet, in the background of their minds most parents feel a bit nervous about the serious implications of this milestone event.  Like any significant privilege, it comes with its own set of rules and responsibilities.
While teens must follow the same rules of the road every one else does, there are less commonly, known facts to be aware of.  There are statistics specific to teenagers and unique challenges they face.  The following is a list of topics that could be a great conversation starter between responsible new drivers and their parents.
The Centers for Disease Control and Prevention report that drivers up to 20 years of age have a fatal car accident risk 3 times higher than any other age group.
Young drivers do not have the benefit of experience on their side yet. While many accidents are due to inexperience with handling of the vehicle, traffic and unusual road conditions, other factors can be discussed and prepared for in advance.
Before You Lend Your Car
In Ontario, it's common for parents to lend their car to a teenage son or daughter. But did you know that its the car owners legal duty to make sure they only give consent to a licensed driver who has proven themselves to be responsible?
The car owners have a legal obligation not to lend their vehicle to anyone who has demonstrated a history of alcohol abuse, drug abuse or reckless behavior.  Car owners that knowing give consent in these circumstances, can face liability based on a legality know as "negligent entrustment."
Be Ready For Changes In Road Conditions
Spring weather with sunny days and dry roads makes driving a pleasure after months of winter weather.  While we usually remind our young drivers to take extra caution in the winter weather with snowy and icy surfaces, spring weather in southern Ontario affords new driving challenges.
Any cool morning the roads can be coated with invisible black ice, surprisingly slippery highways just as the rain begins, or slick surfaces after a fresh snow snowfall.  Add to this, poor visibility caused by heavy rains, hail storms or mud covered windshields. Drivers on country roads can expect washouts in swampy areas, miles of potholes and soft road shoulders leading to a mushy landing in a deep ditch or worse. Each of these road conditions requires specific driving skills. Keep in mind, handling methods vary with different vehicles. A young driver, who uses more than one family car, should be aware of how to handle different road and weather challenges as well as, what to expect from the particular vehicle involved. (e.g, front wheel drive v. rear wheel drive)
In Ontario, motor vehicle operators have a legal obligation to drive according to weather conditions. Advise your teen to adjust to conditions and take reasonable safety measures to avoid an accident. If they don't, they can face liability in the event of a personal injury claim.
Stay Focused And Don't Give In To Distraction
Cell phone use has become a cause of distracted driving accidents, causing injuries and fatalities not just to the offending driver, but also to innocent people. It is a proven recipe for disaster when people drive while making phone calls, texting, and checking social media. A conversation with your teen might yield a safety plan to leave the cell phone in the back seat, or somewhere out of reach, while driving. Other forms of distraction to be aware of may include:
Using electronic devices such as GPS systems or radio
Grooming (e.g. brushing hair, putting on make-up or inspecting ones appearance
Eating or drinking fast food while driving;
Talking or over engaging with passengers
Visual distractions outside the vehicle
If a driver endangers others because of any distraction, including both hand-held and hands-free devices, they can be charged with careless driving. If your teen is also injured in the accident where their distracted driving is a factor – their rights to compensation for future medical care, rehabilitation or lost earning capacity may be effected.

Drive Sober. No Exceptions
It is illegal to drive under the influence of drugs or alcohol. While getting a fine is preferable to seriously injuring or killing themselves or someone else because of DUI,  the legal penalties are stiff. Most parents make it clearly understood, not to drive under the influence of drugs or alcohol. Even if the teen is responsible and you trust them to follow the rules, things do not always turn out as expected. If your teen understands that no matter what happens, you are willing to drive him or her home, it opens the door to clear communication. He will likely make the call to you rather than take the chance of driving under the influence.
Statistics from MADD Canada show that for people age 16 to 25 years of age, there are more deaths due to car crashes, than any thing else, and in 55% of cases, drugs or alcohol are involved.
In Ontario, it's criminal offense to operate a motor vehicle while impaired. This includes off road vehicles, snowmobiles and watercraft. Impaired drivers and their families may also face civil lawsuits (seeking financial compensation) initiated by those that they have injured.
Speed Kills
Speed lengthens the time it takes to stop and it decreases a drivers ability to react.  Inform your teen that speeding is not just about obeying traffic signs – but also about obeying the realities of weather conditions.
Poor Visibility ( Fog, heavy rain, snow, low washer fluid)
Unexpected Stopping (holiday traffic, summer construction, construction vehicles, salt rucks, school buses)
Poorly Maintained Roads (loose gravel, pot holes, change in road alignment, level rail crossings, "S" bends in the road)
Wear Your Seat Belt
Your life and rights to compensation may depend on it. Failing to wear your seat belt in the event of an accident can be deadly. It can also be costly. If your teen is injured in an accident and was not wearing his/her seat belt; they can be found partially at fault for their own injuries. This can effect their rights to compensation from insurers – regardless of who was at fault for the initial car accident.

Even Low Speed Collisions Can Cause Serious Injury
It is unlikely that your new driver will have more than a scratched door or a dented bumper while he builds his driving skills, however, a fender bender or low speed collision can result in injuries that require medical attention. The symptoms of soft tissue or head injures, rarely show up right away. Any unusual pain or discomfort should be monitored closely. A sore shoulder suffered after a car crash could turn out to be something more.
Don't Take The Blame For The Actions Of Others
In an accident situation, younger drivers, who are unfamiliar with the laws can be intimidated, by older drivers who insist the teen was to blame. The teen driver should not apologize or take responsibility for the accident at this time. Whether he is fully or partially to blame will be discerned by a complete investigation of the accident, including eyewitness testimonies and accident evidence, along with driver and passenger reports. The follow up to any car accident involving personal injuries to anyone should include, police and ambulance reports, contact information for any one who was involved in or a witness to the accident, as well as license plates and driver's license information for all drivers.
Consider A Parent-Teen Driving Agreement
Continuing to monitor and communicate with your teen about safe driving is an important responsibility that all parents must take on. Setting and enforcing the rules is just another part of that same job. Having a parent teen driving agreement can help you make your expectations clear. It also demonstrates to your teen that there are real consequences when rules are broken.
 Related Articles:
Who is Responsible When Injuries are Caused by Someone Driving a Borrowed Car?