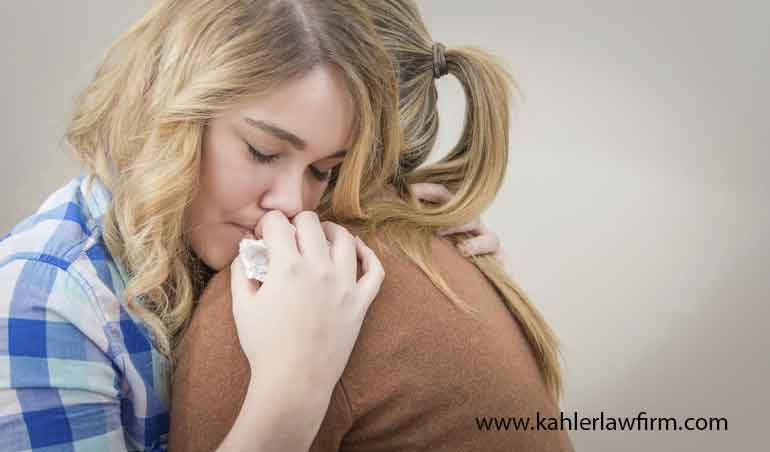 Claims for wrongful death in Ontario are most often associated with a car accidents where a driver was negligent or careless.

Filing a wrongful death claim may also be referred to as a wrongful death lawsuit, or wrongful death action. Wrongful death lawsuits are filed with the civil courts, and are intended to seek compensation (loss-based financial recovery) from those who are responsible for the accident that caused the fatal injury. Depending on the circumstances of the accident; criminal actions (criminal courts) may also take place in addition to the civil action.

Under Ontario's Family Law Act; when lives are lost by the negligent actions of others, the spouses, children and family members of those left behind may be eligible to file a wrongful death lawsuit.
A wrongful death lawsuit must be filed against the responsible  persons, party, company or those that insure them. In most circumstances, such as in a  fatal car accident; the insurance companies of the at fault driver(s) are responsible for compensation.
What Is Compensation Based On?
No amount of money can even come close to indemnifying for the loss of a life. Attempting to place a dollar value on the loss of a persons life can be an extremely delicate and painful process.
As personal injury lawyers, it becomes a matter of seeking whatever semblance of justice we can for those left behind. When a person is fatally injured in an accident, grieving loved ones are often left with intense emotional pain as well as devastating financial hardships. Under Ontario law, these financial hardship may be recoverable.

The damages recoverable in a wrongful death claim may include:
Financial Support
Compensation based in part on the principle of "pecuniary loss".  Basically speaking, "pecuniary losses" are any financial loss that the family has suffered from the death of a family member; Including any financial contribution the claimant may have justifiably received  had the victim not been fatally injured. Any valuation of this amount should take into consideration the impact of inflation and future projected earnings.
Loss of Guidance, Care and Companionship
The loss of a spouse or parent can be extremely painful. The loss of a child is almost unthinkable.
Compensation for loss of guidance, care and companionship may be awarded in on top of losses for financial support.

Provisions in this area are intended to compensate for the loss of guidance, care and companionship that the claimant(s) might reasonably have expected to receive if the death had not occurred.
Guidance might take into consideration potential teaching, discipline or moral direction a victim may have given to surviving family members. Damage awards in this category need to take into consideration the nature of the relationship(s), the age and living arrangements of the claimant(s) at the time of the accident.

Care may include household duties, cleaning, meal preparation, transportation, feeding, or other forms of assistance the deceased would have provided their family member(s).
Loss of companionship must consider the special bonds, moments, milestones, celebrations and experiences that spouses, parents, children and siblings share in he course of a lifetime. Lost companionship can have a profound impact on the lives of those left behind.
It's important to remember that guidance, care and companionship can come in many different forms throughout the average span of a persons life time. (For instance: Caring for a young child or aging parent). Spouses, children and parents have unique relationships that can change and evolve over time.  For this reason, damages awarded should consider the loss of the victims care, companionship and guidance as those left behind grow older.
Based on Ontario case law (Fiddler v. Chiavetti.) At present, the highest award for loss of guidance, care and companionship is $125,000.00 per claimant. It is important to remember that in a wrongful death lawsuit, there may be multiple claimants ( such as a victims spouse and the victims children etc).
Please note: Damages for financial losses can be claimed in addition to damages for loss of guidance, care and companionship.
Actual Expenses
Actual expenses reasonably incurred for the benefit of the person injured or killed; such as medical treatments, medication, travel expenses or time spent visiting the person during his or her treatments before the moment of fatality occurred. (This is in addition to reasonable funeral and burial expenses)
Where, as a result of the injury, the wrongful death claimant provides nursing, housekeeping or other services for the victim, a reasonable amount for loss of income or the value of the services may be granted.
In essence, the more financial losses that have been suffered, the greater the compensation. Unfortunately, Ontario law does not allot for the devastating grief, extreme sorrow and anguish that loved ones suffer as a result of the wrongful death. This can be a harsh reality to understand and accept.
Who May Be Eligible For Compensation?
When a person is negligently injured or killed in an accident; the spouse, children, grandchildren, parents, grandparents, brothers and sisters of the person may be entitled to recover compensation based on their "losses"resulting from the injury or death.
Any financial settlement recovered in a wrongful death action belong to the family members of the victim and a not to his/her potential creditors. In Ontario, the estate of the victim is not eligible for compensation for losses sustained postmortem. There may however be compensate-able damages covering the time-frame between the accident that caused the fatal injuries and the actual moment of death (such as compensation for pain and suffering).
Compensation for wrongful death accidents is not given freely. A wrongful death lawsuit must be filed with the courts. Evidence and documentation in support of the claim is essential.
Wrongful Death Claim Advice
In Ontario, there are time limits that restrict the length of time that a claimant has to file a wrongful death claim. In most circumstances, that time frame is two years. Proving and litigating a successful wrongful death claim can take extensive preparation.  For this reason, most personal injury lawyers in Toronto offer "No Win – No Fee" contingency fee retainers; where fees are only payable if a financial settlement is obtained. Any fees obtained by the representing lawyers are based on a percentage of the settlement received.

Wrongful death claims can be extremely complex. Lawyers who litigate these types of cases need to have considerable resources, experience and expertise in this area.