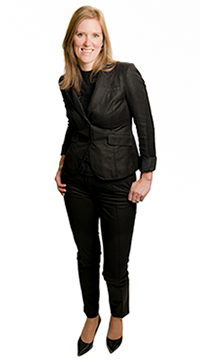 Crystal Dell'Orso is a litigation law clerk specializing in Personal Injury Law. She has worked in the personal injury industry since 1997, working mainly as a Personal Injury law clerk with a few years of experience working in a Defence Litigation Firm. Crystal has experience in dealing with serious and catastrophic injury cases. She specializes in motor vehicle accidents, slip and fall accidents, personal injury and long term disability claims.
Crystal has been a guest speaker at the Ontario Trial Lawyers Associate presenting a paper on the Organization of Critical Data in Preparation for Trial- For All Types of Personal Injury Litigation.
Crystal sits on the Parent Teacher Association holding various titles such as Co-Chair and Secretary. She organizes speakers within her community to educate parents, teachers and children about internet safety and cyberbullying. She has volunteered with the Kid's Help Phone and was a head leader with Scouts Canada.
In her spare time, Crystal enjoys spending time with her two children, traveling and helping out in the community.